Edinburgh Trams: Passengers to get list of rules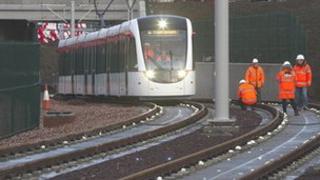 Passengers on Edinburgh's new tram system will face fines of up to £1,000 and year-long bans if they break any of the rules on a new list.
A set of bylaws including drinking alcohol, playing music too loudly and wearing offensive T-shirts are to go before councillors on Thursday.
Under the rules explosives are banned as are knives, flammable items, fireworks, smoking and urinating.
People must also not play musical instruments or iPods too loudly.
The council said it was also doing everything it could to beat the summer 2014 completion date.
The service will run from Edinburgh Airport to St Andrew Square.
All major utility diversion works are to be completed by the end of November 2012.