Portobello honey 'kills bacteria'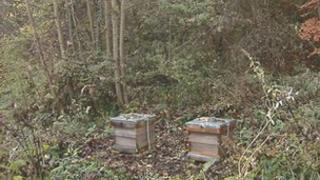 Edinburgh scientists studying the properties of honey produced in Portobello have said it could be used to kill bacteria.
The medicinal value of honey to treat wounds is well known.
However, scientists at Queen Margaret University have found honey produced by bees in Portobello is as effective as Manuka honey in killing bacteria.
The study looked at the effects of both honeys on Staphylococcus aureus, Pseudomonas aeruginosa and E coli.
Future benefits
Dr Lorna Fyfe, of the university's Microbiology and Immunology department, said: "The research found that although Manuka honey had 10 times more polyphenols than Portobello honey, surprisingly, both honeys were equally as effective at killing the three specified bacteria in the study.
"This suggests that there could be some highly active polyphenols which are unique in Portobello honey."
Dr Fiona Coutts, Dean of Health Sciences at the university, said the research highlighted an area of untapped potential for Scotland.
She added: "There are many aspects of this work which offer potential benefits for the future.
"If Portobello honey continues to show positive results it could offer an excellent economic alternative to importing expensive honey from the other side of the world."
The research is only in its first phase and the team said they want to test honey from other local producers to see if there is something special in Scottish honey.