Gaza crisis: Pro-Palestinian rally taking place in Edinburgh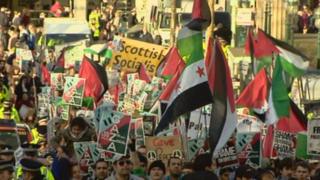 Hundreds of people have taken part in a march and rally in Edinburgh in support of the Palestinian people.
Marchers urged the Scottish government to call for an end to what they described as an "ongoing massacre" in Gaza.
At least 40 Palestinians and three Israelis have died since Israel killed Hamas's military chief on Wednesday.
UK Foreign Secretary William Hague has urged both Israel and the Palestinians to make efforts to halt the violence.
The rally in Edinburgh was supported by a number of groups, including the Scottish Palestine Solidarity Campaign, Stop the War and the Scottish Trades Union Congress.
'Abhorrent' situation
They marched from the first minister's official residence, Bute House in Charlotte Square, to the Scottish Parliament.
Mahmoud Mahdy, a spokesman for organisers We Are All Hana Shalabi network, told BBC Scotland: "Scotland has the opportunity to lead on this question and Alex Salmond will need to have a position soon.
"He'll need to decide what camp he's part of."
A Scottish government spokesman said it was wrong to collectively punish the people of Gaza for the actions of their government.
He added: "The Scottish government supports the view that long-term peace in the Middle East between Israel and Palestine is best served by a two-state solution and we urge all parties to engage constructively, proportionally and within the obligations imposed upon them by international law, to find a peaceful way forward."
In the latest developments in the Middle East, Israel targeted the headquarters of Hamas leaders and other key facilities in Gaza, on the fourth day of Israeli air strikes in the coastal enclave.
Israel earlier put 75,000 reservists on stand-by amid speculation of an impending ground invasion.
Militants in Gaza have continued to fire rockets into Israel, after aiming at Tel Aviv and Jerusalem on Friday.
'Defensive' action
Mr Hague has called on both Israel and the Palestinians to try to halt the violence.
He told BBC Radio 4's Today programme on Friday: "The thing that would bring this most quickly to an end would be for Hamas to stop launching rockets at Israel.
"But of course, there are also responsibilities on Israel."
Dermot Kehoe, chief executive of the British-Israel group Bicom, told BBC Scotland: "The democratically-elected Israeli government is acting to defend its people, as has been recognised by Mr Hague and President Obama.
"There is no military solution for either side to this conflict. What is needed is a negotiated peace settlement and Hamas are a major obstacle to that."