Children's doctor 'shortage' in Lothian, Fife and Borders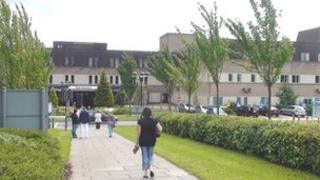 NHS Lothian, NHS Fife and NHS borders are facing a shortage of trainee doctors in paediatrics.
A total of 47 senior trainees are needed to provide out-of-hours cover across the region but by February there is likely to only be 34.
In the summer the children's ward at St John's Hospital in Livingston was closed due to staff shortages.
The health boards said they were working to ensure safe and sustainable care for children and babies.
A joint statement on paediatric staffing across south east Scotland said: "The paediatric workforce is managed on a regional basis to ensure safe and sustainable services across the region.
"NHS Lothian, NHS Fife, NHS Borders and NHS Education for Scotland's South East Region, are working together and in partnership with stakeholders, to decide how best to deploy the workforce to provide safe and sustainable care for children and babies across South East Scotland, now and in the future.
"The public should be reassured that any decision will be taken in the best interests of patient safety and that there will be full engagement with all stakeholders."
Local 'betrayal'
A paper detailing options for the future provision of children's and maternity services across the region will be presented to the NHS Lothian board later this month, and to the boards of NHS Borders and NHS Fife next month.
Paediatric and maternity services in the south east are currently provided at the Royal Hospital for Sick Children, including the national paediatric intensive care unit, and the Simpson Centre for Reproductive Health in Edinburgh, St John's Hospital, Livingston, the Victoria Hospital, Kirkcaldy and Borders General Hospital, Melrose.
The decision to close the children's ward at St John's to admissions for three weeks in the summer was branded a "betrayal" by the local council and criticised by First Minister Alex Salmond.
Earlier this year, the Royal College of Paediatrics and Child Health undertook a review of paediatric training in the south east of Scotland.
The review recognised that the training programme was of a "very high standard" but recommended that trainees should not work out-of-hours at St John's Hospital and possibly Borders General Hospital as the small number of cases and limited case mix does not provide sufficient training experience.
All three health boards said they were working together to address the predicted number of gaps.
A Scottish government spokeswoman said: "We have made it clear to NHS Lothian that we expect them to work closely with service users and stakeholders to ensure children and babies get the safest and most effective care possible in the region."
The Scottish Labour party accused NHS Lothian of "slipping out" news of the shortage and called for the cabinet secretary for health to urgently intervene in children's care.
A spokesman said: "NHS Lothian has still to address its fundamental weaknesses and management failings.
"This is a health board that continues to suffer from poor direction, despite the best efforts of over-stretched nurses and doctors.
"NHS Lothian can't be left to fail to improve services. The government must intervene and take control and responsibility for what is happening in Lothian."