Portobello High School: Fight over site to be decided in 2014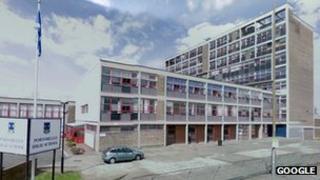 The fight over building a new Portobello High School in an Edinburgh field will not be decided until 2014, the council has confirmed.
Campaigners won a legal battle in September which blocked plans to build a new secondary school on Portobello Park.
Now the city council believes a private bill in the Scottish Parliament could help them go ahead with the project.
Options will be discussed next week but the final decision is in February 2014.
In September Portobello Park Action Group (PPAG) won its appeal at the Court of Session to halt plans for a new school on the land at Milton Road.
'Specific needs'
The new £41m school was first proposed 10 years ago to replace the ageing 1960s building in Duddingston Road.
However, PPAG argued it was building on common good land. At the time Edinburgh Council said it was "extremely disappointed".
Paul Godzik, Edinburgh City Council's education, children and families convener, said: "We believe, along with the Scottish government, that a private bill, promoted by us and shaped around the specific needs of the Portobello community, presents the best opportunity for us to demonstrate to the Scottish Parliament why it should support measures which would enable us to build a school to be proud of in Portobello Park.
"Portobello Park is the best option, bar none, and we will be working with the community in the coming months to explain the options and seek their views.
"We firmly believe that Portobello Park has the support of the vast majority of people in the area."