Blind man cut in doorstep attack in Edinburgh's Broughton Road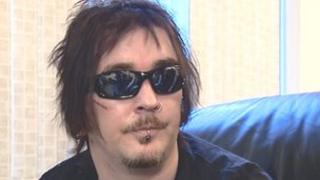 A blind and disabled Edinburgh man has been cut on the face by an armed attacker who robbed him in his home.
Stuart Gunn, 39, who uses crutches and a wheelchair, answered a knock at his door in Broughton Road at 12:50 on Thursday.
A man then forced his way in and presented a sharp object before robbing the man of possessions.
Mr Gunn was knocked to the ground during the incident and cut. He needed 23 stitches to his face.
The attacker is about 5ft 10in tall, of slim build with a local accent. He is aged in his mid 20s to early 30s, and was said to have smelled strongly of stale body odour, smoke and alcohol.
Mr Gunn told BBC Scotland: "I was expecting Royal Mail. When I opened the door I got this really rank smell and the next thing I had a knife on my throat and he was asking for my wallet.
"He snatched my sunglasses off my face and made some fairly derogatory remarks about my disabilities and used a word I despise and I just snapped and lashed out at him with my left crutch and tried to kick him with my left leg because my right side is paralysed.
"He grabbed my chain and snapped it off my neck, which made me off balance and I fell, hitting my back off the door.
"I could hear him laughing as he was going away.
"The pain from me hitting my back made me throw up because I have really bad spinal injuries.
"I then felt the blood running down my face and neck."
'Despicable and opportunistic'
Mr Gunn was severely injured in a motorbike crash 10 years ago which left him blind and partially paralysed.
Mr Gunn is currently training to break the world land speed record for a visually impaired motorbike rider.
He said the attack has left him shaken but still determined to pursue his goal.
Det Sgt Dave Pinkney, of Lothian and Borders Police, said: "This was a despicable and opportunistic theft, which targeted a vulnerable man who was virtually unable to defend himself.
"Despite his visual impairment, the victim has provided us with a fairly detailed description of the suspect and we are carrying out enquiries within the local community to identify him.
"Anyone who was in the Broughton Road area on Thursday afternoon and remembers seeing anything suspicious, or who can help us trace the man responsible for this crime, is asked to contact police immediately."