Staffies campaign launched by Edinburgh Dog and Cat Home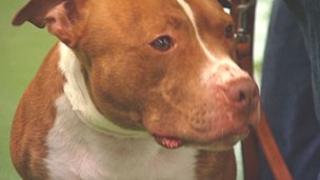 The number of unwanted Staffordshire Bull Terriers being cared for at an Edinburgh dog and cat home has more than doubled in the past decade.
Edinburgh Dog and Cat Home is trying to change perceptions of Staffies, which are commonly tarred with the reputation of being aggressive, fighting dogs.
The appeal - Staffies. They're Softer Than You Think - launches later.
Dog owners with their pets will gather outside the Scottish Parliament to raise awareness of the breed's plight.
The centre in Edinburgh said it took in 231 Staffies and Staffie crosses last year, a 272% increase on 10 years ago.
'Nanny dogs'
The centre is currently caring for 50 of the dogs, which make up 30% of all of the animals there, with officials saying people tend to be reluctant to rehome them because of their negative reputation.
According to Edinburgh Dog and Cat Home, Staffies were once known as "nanny dogs" because of their gentle nature and affinity with children, and it hopes to encourage potential owners to think again about adopting one as a pet.
David Ewing, Edinburgh Dog and Cat Home's centre manager, said: "Staffies get a raw deal these days, so much so that too many people wrongly consider the dog to be a fighting dog rather than a family dog.
"It's time we gave our Staffies a chance and got to know them for the lovely, friendly dogs they really are.
"Any dog can be trained to be aggressive, yet we know that with the right owners Staffies can make loyal and loving family pets."
Edinburgh Dog and Cat Home has joined forces with Battersea Dogs and Cats Home to try to change perceptions of Staffies.