Edinburgh University reaches £350m fundraising target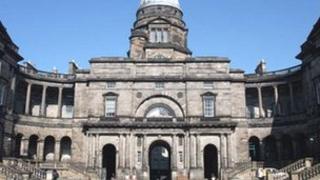 Edinburgh University's £350m fundraising drive has reached its target with support ranging from former students to author JK Rowling.
The Edinburgh writer donated £10m to the university's campaign, which was launched six years ago.
The money will be used for furthering research, maintaining its buildings and in financial support for students.
JK Rowling's donation will be used to build a clinic for multiple sclerosis and other neurodegenerative diseases.
The Harry Potter writer's mother Anne had multiple sclerosis and died aged 45.
The rest of the £350m funding has come from former students, funding councils, major trusts and foundations, corporations, government and research charities.
Bursary programme
Projects receiving support include The Euan MacDonald Centre for Motor Neurone Disease Research and the McKern Fellowship, which funds research into the treatment of pain and distress during pregnancy and labour.
The campaign, one of the biggest fundraising initiatives in Scotland's history, has also helped the university to support "the most generous bursary programme in the UK".
Other key projects to benefit include the Centre for Regenerative Medicine, the Royal (Dick) School of Veterinary Studies, the Alwaleed Centre for the Study of Islam in the Contemporary World and the Scottish Centre for Diaspora Studies.
The campaign has also helped conserve historic university buildings including the Main Library, Old College and Teviot Row House.
There have also been a number of initiatives to recruit and retain "high calibre academic staff".
Kirsty MacDonald, Edinburgh University's director of development and alumni engagement, said: "What is significant, and what the university is most proud of, is the campaign has funded projects that have the potential to change people's lives for the better.
"Fundraising has become an integral part of the university and we will continue to work with supporters to ensure that all areas of the university can flourish."