Shop staff relive robbery ordeal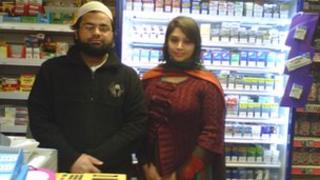 A shop owner has told how she fought off a robber who threatened to shoot her, before her colleague tackled him to the ground at her store.
Anila Ali, 33, from Edinburgh, and Nafees Muhammad, 29, are being honoured for their bravery with a Lothian and Borders Police meritorious award.
The pair were working at Premier Store in Tranent, East Lothian on 8 June this year, when the man entered the shop.
He said he had a gun under his jumper and threatened to shoot.
Mrs Ali, told the BBC Scotland news website she was was "very scared" when it was happening and "really shaken" afterwards.
Describing her ordeal, she said: "He dipped his hand into the till while I was serving a customer and my instinct was to grab his hand and pull it out.
"He said 'I've got a gun, empty the till'.
"I shouted for my staff member, Nafees, who is a trained black belt in a martial art."
Mrs Ali continued: "I managed to get to the panic button and then I ran and held the door closed and they were fighting and I was kicking him as he was trying to get the door open."
Mrs Ali said her colleague managed to get the attacker's hooded top off, exposing his face to the CCTV cameras, before chasing him to a house so he could inform police of his location.
Mrs Ali she was very honoured to be receiving the award, adding: "All the credit goes to Nafees - he deserves it. Me getting it is the icing on the cake."
Mr Muhammad said he had never before used his martial arts outwith training, adding: "This job is very important to my life so I did not fear the man."
They will receive their awards at a ceremony at Lothian and Borders Police headquarters at Fettes in Edinburgh at 14:30 on Thursday.
Paul Lugton, 36, was jailed for 14 months after admitting attempted robbery.