Rape prevention drive on Lothian airwaves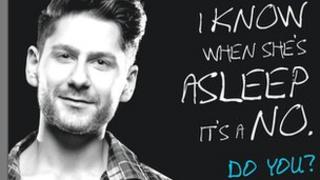 A new rape prevention campaign which aims to reach out to young men and challenge some of the "myths" about the crime has been hitting the airwaves.
The three-week radio campaign, which sets out to clarify recent changes to the law on consent, is part of the We Can Stop It project.
It has "real men" between the age of 18 and 28, who give their reactions to rape statistics and Scots law changes.
The adverts are being broadcast to listeners in the Lothian and Borders.
Perpetrator 'invisible'
Paula Dunn, young women's support worker from Rape Crisis Scotland, said: "The campaign highlights that men should take responsibility for rape.
"For too long campaigns have focused on the survivor and their perceived responsibility, making the perpetrator invisible.
"The campaign really encourages men to be active bystanders and challenges popular myths around masculinity."
Lothian and Borders Police, which launched the campaign, said the adverts are designed to get across the fact that sex without consent is rape and that someone who is incapable through drink or drugs is considered unable to give consent.
They also stress that consent to sex can be withdrawn at any time and that serious sex attacks on men are now legally classed as rape.
Student Mark Payne, who took part in one of the sessions, said: "What surprised me most was that the laws are so clear and the focus is on consent, you need to make sure you are totally clear the other person does consent to sex. If you're not, you are breaking the law and it's rape."
Ch Supt Malcolm Graham, of Lothian and Borders Police, said: "These adverts are a brilliant opportunity to address some of the myths about rape and to engage with young men using language that they identify with."