Jobs fair for Halls of Broxburn workers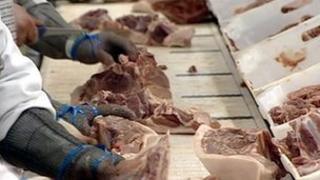 Staff from the Halls of Broxburn factory have been attending a jobs fair in the town.
A total of 1,700 jobs are being lost to the area with the closure of the meat processing plant. All of the jobs will be gone by February.
The jobs fair in Broxburn is part of the Scottish government's initiative to help West Lothian recover from the loss of one of its biggest employers.
More than 25 employers are taking part in the fair.
The event has been organised by the Partnership Action for Continuing Employment (PACE) - the Scottish government's initiative on large-scale redundancies.
Donald Lumsden, PACE chair for the West Lothian area, said: "The employers attending the event have already expressed an interest in offering job opportunities to Hall's of Broxburn staff.
"I would encourage staff to make the most of the jobs fair and speak to as many employers as possible. Staff have built up transferable skills and this event will allow employers to match people to suitable posts."
Depute Leader of West Lothian Council Cathy Muldoon said: "Our main priority is to support Vion Hall's dedicated West Lothian workforce at this difficult time.
"The closure of the plant will have a significant impact on local families and communities, and it's important they know that every effort is being made to help them find new opportunities."