Ski championships held after upgrade at Hillend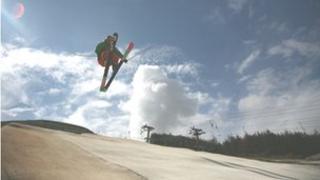 Two years after it was threatened with closure, Edinburgh's Hillend ski centre is hosting the British Universities Dry Slope Championships.
The centre has undergone a massive refit ahead of the competition.
Over a 1,000 student competitors are taking part in the championships over the next two days, in disciplines such as giant slalom, freestyle and Big Air.
The competition is the first at the snowsports centre since it had a more than £500,000 upgrade.
The centre now has more than 200 metres of extra slope as well as new nursery slope and lifts, making it the longest dry slope in Europe.
An official re-opening date for the facility has yet to be decided.
Bob Constable, Midlothian Council's cabinet member for public services and leisure, said: "The British Universities Championships is a showcase for talented student skiers and snowboarders to compete at a very high level against their peers.
"We are also looking forward to showing off spectacular improvements which have been made at the centre; the work is nearly finished and will be a great boost to the local area and beyond."