Body found in chemical incident in Fife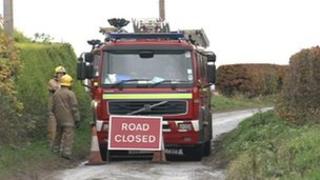 The body of a 50-year-old local man has been found in the grounds of a cemetery in Fife where reports of a chemical incident are being investigated.
The discovery was made at 05:15 on Friday at Vicarsford Cemetery, about four miles north of Leuchars.
A Scottish Decontamination Service unit was at the scene.
Five extra fire engines from Fife were also sent to the scene, as well as one used to detect hazardous material from Tayside Fire and Rescue Service.
A spokesperson for Fife Fire and Rescue Service said police asked them to attend over a suspicion chemicals may be present at the site.
Supt David McCulloch, of Fife Constabulary, said: "We are currently investigating this incident, in which a chemical was involved, which is why we have called on the assistance of Fife Fire and Rescue Service and chemical analysts from the Scottish Government.
"The chemical exposure is very localised to the incident.
"Two police officers and a member of the public were taken to Ninewells Hospital as a precaution and were discharged shorly afterwards.
"There is no threat to the public."
The road was closed between A914 and B945 Forgan.