Norma Graham, former Fife chief constable, to face trial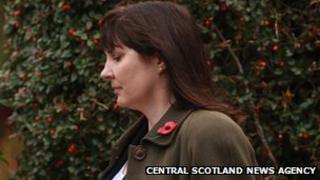 Scotland's first female chief constable is to stand trial after denying she was to blame for a road traffic accident.
Norma Graham is accused of losing control of her car and hitting another vehicle on the B922 Cluny to Kinglassie Road in Fife.
Ms Graham, the former chief constable of Fife Constabulary, was taken to hospital along with another motorist.
She maintained her not guilty plea to a charge of careless driving at Kirkcaldy Sheriff Court.
The incident happened in February, when Ms Graham's Audi Quattro was involved in a collision with a Renault Clio
Her lawyer, Colin Simpson, said he would argue during the trial that the crash happened because of black ice.
First time
Sheriff Alistair Thornton refused a Crown request for more time to prepare the prosecution case, and continued the case for a trial in December.
He also ordered a further pre-trial review on 28 November.
She joined Lothian and Borders Police in 1978. After joining the force as a 16-year-old cadet, she rapidly worked her way up to become detective chief superintendent.
In 2002 she became assistant chief constable of Central Scotland Police, and was strategic commander during the G8 Summit at Gleneagles, before becoming Scotland's first female chief constable when she took charge of Fife Constabulary in 2005.
When Ms Graham was first summoned to court in June it was thought to be the first time a serving chief constable in Scotland had appeared in court as an accused.
Following the announcement of her retirement in August, a spokesman for the force said it had nothing to do with the accident or legal proceedings, adding: "Police officers normally retire after 30 years."