Jubilee Stained Glass Window unveiled by the Queen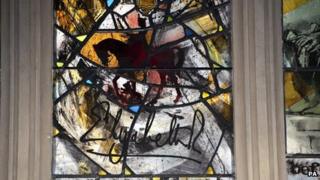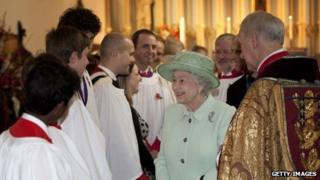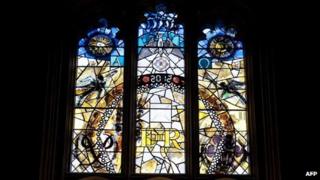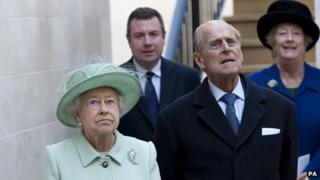 The Queen has unveiled a stained glass window marking her Diamond Jubilee, which includes a depiction of her on horseback accompanied by a corgi.
The window in the Chapel of the Savoy, London, has the initials ER at its centre, flanked by angels and figures representing honour and justice.
It also has Church of England, Armed Forces and Commonwealth symbols.
Edinburgh-born artist Douglas Hogg, 64, whose design beat 33 rival entries, was selected personally by the Queen.
He said the image came from a seal he discovered while researching the royal archives.
He said: "We know she likes horses, horse-racing and dogs. When I saw the seal, I thought it was a personal in-road into what the Queen herself is about as a person.
"I've included the image from that seal, the horse with her on it and the corgi snapping at the horse's heels.
"Below that, I've got the actual Queen's signature as well, so that's referring to her personally."
He added: "It's a bit playful. The symbol of the Queen has become more humanised.
"People are more interested in what the Queen's wearing, what the Queen's doing.
"So getting through to the actual likes of the Queen herself as a person is very important these days."
Jubilee year
The window's bright yellow and blue colour scheme was based on the Queen's outfit at the royal wedding of the Duke and Duchess of Cambridge, according to the artist.
The work is also inscribed with the words: "I declare before you all my whole life, whether it be long or short, shall be devoted to your service."
Alongside all the royal iconography, there is a small red image at the bottom of the artwork showing the Queen mounted on a horse with a corgi trotting alongside her.
The Duke of Edinburgh joined the Queen in attending the service to celebrate the new window.
She wore a mint-coloured coat and a matching hat, as well as white gloves, a black handbag and a silver broach.
The window was created to honour the Queen's 60th year on the throne and comes after a summer of celebration, which included a 1,000-boat procession along the Thames and a star-studded concert at Buckingham Palace.