Man sent to prison for rape bid in Edinburgh's Tollcross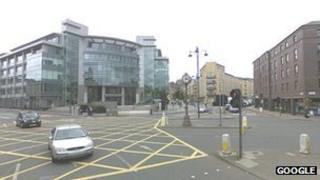 A man who stalked and then attempted to rape a woman returning to her Edinburgh home from a night out has been jailed for six years.
Darius Serafinski, 26, crept up behind the woman, 20, who cannot be named for legal reasons, in Tollcross in the early hours of 28 January 2012.
The High Court in Edinburgh heard how he forced his way into her property.
Serafinski was found guilty by majority verdict of attempted rape and breach of the peace charges last month.
Sentence on Serafinski, a Polish immigrant who has one previous conviction for dishonesty, was deferred in order for the court to obtain reports about his character.
Locked-up
The court had heard that as the woman had tried to escape and phone 999 for help, her attacker grabbed her mobile phone, threw it onto the ground and then shut a door to prevent her from running out onto the street.
He ignored her screams for help as he subjected her to a "terrifying sexual assault".
The court heard how the man stopped when he was disturbed by a passerby and then ran off.
Then on 3 March 2012, Serafinski followed another woman called Tsaii Fang to another house in the city. He asked her if he could come into her flat.
When she refused, Serafinski, a prisoner of HMP Edinburgh, pushed the door to the property, forced himself in and went into her bathroom.
Serafinski was arrested by police shortly afterwards. He had denied the charges, but the jury of eight women and seven men believed there was enough evidence to convict him.
Judge John Morris told Serafinski that he needed to be locked-up as the public needed to be protected from him.