Fireworks warning for Pilton tenants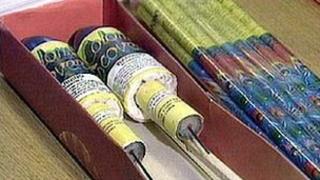 Parents in Edinburgh are being warned that their tenancy agreements could be at risk if their children cause a nuisance with fireworks.
Police and council officers are visiting youngsters' homes in Pilton.
It follows recent incidents where fireworks have been thrown and fires have been started in the area.
Edinburgh City Council said parents would be held accountable if their children committed repeated acts of antisocial behaviour.
Tenancy breach
Insp Mark Rennie, of Lothian and Borders Police, said "We have had two very concerning fires in West Pilton over the last month and several worrying incidents involving fireworks.
"This type of risk-taking behaviour will not be tolerated.
"We have additional officers on patrol and we are also highlighting the problem to local shop owners, but speaking to parents about the recent incidents and potential consequences is a key part of our response."
Cammy Day, Edinburgh City Council's community safety leader, said: "The visits are designed to make the position clear to parents - they are responsible for the behaviour of their children.
"We will carry out an investigation and look at potential breaches of their tenancy agreements and possible legal action should they not heed the warnings given to them.
"We will not hesitate to take the strongest possible action against those responsible for fire raising and other acts of antisocial behaviour."