Royal Highland Show: Bid to 'weather-proof' Ingliston site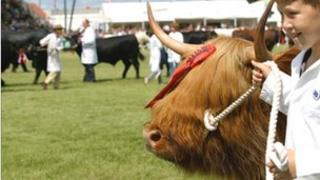 The Royal Highland Show is to spend more than £4m attempting to "weather-proof" its site near Edinburgh after a succession of poor summers.
This year's event was badly affected by heavy rain, which left about two thirds of the car parking space unavailable.
Work will now be carried out to improve drainage and roads on the Ingliston site in time for next year's show.
It is hoped the investment will also help the 280-acre venue attract more large-scale events in the future.
The work will include laying permanent hard surfaces throughout the site for vehicles to park on.
Next year's Royal Highland Show takes place on 20 - 23 June.
Stephen Hutt, chief executive of the Royal Highland and Agricultural Society Scotland, said: "A detailed design study has identified ways in which we can deliver immediate results in terms of drainage and the internal road network, which will 'shore up' both the showground and the car parks.
"This work is well under way and will be complete in time for next year's show.
"In parallel, we are in discussions with our neighbours, Edinburgh Airport and RBS, on developing robust contingency plans should these be required. I am very heartened by this collaborative approach."