David Gilroy's murder conviction appeal to start in December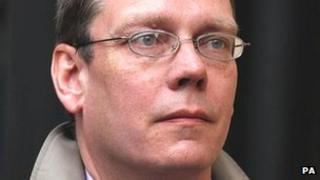 The Edinburgh man jailed for murdering Suzanne Pilley has been told his appeal is to start just days before Christmas.
Solicitors acting for David Gilroy, 50, have been told by Appeal Court judges his bid to have his conviction quashed will begin on 20 December 2012.
Gilroy was convicted at the High Court in Edinburgh in April 2012 of murdering former lover Ms Pilley in Edinburgh in May 2010.
He was sentenced to life and must serve at least 18 years.
Prosecution lawyers believe he dumped Ms Pilley's remains in a shallow grave somewhere near the Rest and Be Thankful beauty spot in Argyll.
The pair had split in the weeks leading up to her death.
However, Gilroy's defence team say he has been wrongly convicted of murdering Ms Pilley, whose body has never been found.
In July 2012 his solicitors lodged an appeal against conviction. They were given permission to argue that police should have told Gilroy he was suspected of committing a crime when officers interviewed him days after Suzanne went missing.
His legal team believe police may have broken the law when they spoke to him. They say that officers are supposed to tell people who are suspected of committing a crime that they are being spoken to as a suspect in a criminal investigation.
At the Court of Criminal Appeal in Edinburgh earlier this month, his lawyers were told they could argue that the judge at Gilroy's trial, Lord Bracadale, also acted wrongly during proceedings.
During the trial, members of the jury were supposed to be shown an edited report which had been composed by pathologist Dr Nathaniel Cary.
In the report, Dr Cary speculated about the circumstances surrounding Ms Pilley's disappearance.
But rather than be shown the edited report, the jury were wrongly given copies of Dr Cary's unedited text by the prosecution.
Lord Bracadale allowed the trial to continue.
The jury were then handed copies of the edited report.
At that hearing John Scott QC, the solicitor advocate acting for Gilroy in his appeal, argued that this action could have prejudiced the jury against the former businessman.