Girl, 17, throttled by man in Colinton Road in Edinburgh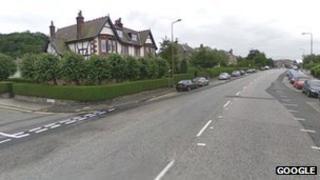 A teenage girl has managed to break free from a man who dragged her to the ground before throttling her in Edinburgh.
The 17-year-old was walking home on Colinton Road and had just passed the junction of Lockharton Crescent when she became aware of someone behind her.
The man grabbed her by her shoulders and dragged her to the ground before clamping his hands around her neck.
The incident happened at 01:50 on Sunday.
The attacker walked off in the direction of Oxgangs.
Bruised neck
The girl phoned a member of her family, who collected her before calling the police later.
She sustained bruising to her neck and a cut to her mouth.
The attacker was described as between 17 and 21 years old, about 5ft 6in tall and of slim build but with muscles.
At the time of the assault he may have been wearing a faded blue zip-up hooded top and black joggers.
Det Con Marion Fraser, of Lothian and Borders Police, said: "This assault was extremely frightening and traumatic for the victim and, while she will thankfully make a full recovery, she has been left shaken.
"I am now appealing to anyone who might have been in the area at the time of the attack and has any information to come forward immediately.
"The incident happened around ten minutes before the clocks went back, so this may jog the memories of those in the area at the time."
She added: "If anyone recognises the description of the suspect then please get in touch with us as soon as possible.
"This was a particularly nasty attack and although these incidents are rare in Edinburgh, I would encourage members of the public to take all reasonable precautions to protect their personal safety."