Fundraiser for St Bernard's Well at the Water of Leith launched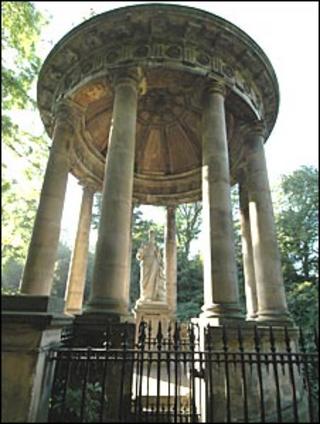 A fundraising appeal to help complete the restoration of an historic well on the banks of an Edinburgh river has been launched.
St Bernard's Well at the Water of Leith sits inside a Roman-style temple commissioned by Edinburgh judge Lord Gardenstone in 1789.
A revamp of the well will cost £232,839.
After contributions from Edinburgh World Heritage and Edinburgh City Council, £50,000 is still needed.
It is understood Lord Gardenstone was so convinced by the restorative powers of the natural spring that he had the monument built in its honour.
It is said the temple was inspired by the Temple of Vesta in Tivoli, Italy.
Adam Wilkinson, director of Edinburgh World Heritage, said: "St Bernard's Well has to be one of Edinburgh's most picturesque and tranquil locations, an elegant classical temple in a charming bucolic setting only minutes from Princes Street.
"We hope that people will come forward now to help us restore this important part of Edinburgh's heritage for future generations to enjoy."
Richard Lewis, Edinburgh City Council's culture leader, said: "By restoring this unusual and quite beautiful well, we will be preserving a significant Edinburgh landmark for future generations."