Ten-day festival to celebrate Forth Road Bridge's 50th birthday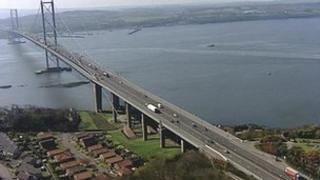 A 10-day festival is to be held to mark the Forth Road Bridge's 50th birthday in September 2014.
The Celebration of the Bridges will include a flotilla of boats on the Forth and a major free fireworks display.
There will also be the chance for 2,014 members of the public to climb to the top of the bridge's main towers.
And an attempt will be made to set a world record for the largest ever sit-down lunch.
Organisers hope to promote the celebrations as part of the 2014 Year of Homecoming.
Transport Minister Keith Brown said it was "fitting" that one of the most recognisable feats of Scottish engineering would celebrate its 50th anniversary in the Year of Homecoming.
"The Forth Road Bridge has provided 25 million vehicles every year with a connection between communities north and south of the Forth estuary whilst acting as a vital link in Scotland's transport network," he said.
"I am delighted to endorse the funding bid which will support preparations to celebrate the Forth Road Bridge's past, present and future."
'Unique attraction'
Tony Martin, Forth Estuary Transport Authority convener, said: "The Forth Road Bridge is not just one of the world's most significant long-span bridges, it is Scotland's largest man-made structure and a symbol of home for many thousands who live nearby and who make the daily commute across it.
"By September 2014 the three towers of the new crossing will have risen from the Forth and, together with the world-famous Forth Bridge, we will have a unique attraction with three major bridges from three different centuries.
"We want to celebrate the Forth Road Bridge reaching its 50th birthday with a programme of events of fitting scale and spectacle to do justice to these iconic structures."