Biggest whisky bottle on display in Edinburgh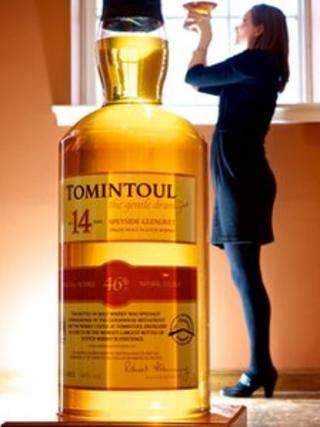 The world's largest bottle of single malt Scotch whisky has gone on display in Edinburgh.
Standing at 4ft 9ins, the giant bottle of Tomintoul 14-year-old single malt contains 105.3 litres and would serve up 5,250 drams.
The record-breaking tipple is on view to visitors at the Scotch Whisky Experience in Edinburgh until April next year.
The specially-commissioned bottle holds 150 bottles and is worth about £5,000.
It has a gigantic cork and oversized label, and required a team of 14 people to fill and close it.
The bottle left its birthplace in the Highland village of Tomintoul for the first time since it was created in 2009, arriving at the visitor attraction on Thursday.
Susan Morrison, director of the Scotch Whisky Experience, said: "We are already home to the world's largest collection of Scotch whisky, so it seemed perfectly fitting that we host this record-breaking bottle for its first appearance in the capital.
"It makes an ideal addition to the existing elements of the attraction and we expect that it will be a very popular photo opportunity with visitors."