Douglas Lawrence admits killing ex-girlfriend Carolyn Ellis in Tollcross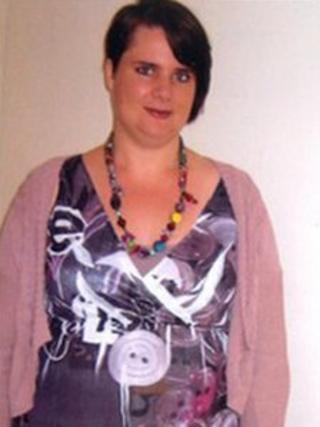 A man killed his former girlfriend in a frenzied knife attack in Edinburgh after telling doctors about his fantasies of violence towards her.
Douglas Lawrence, 29, had been accused of murdering Carolyn Ellis, 32, but his guilty plea to a reduced charge of culpable homicide was accepted earlier.
Ms Ellis suffered 45 knife wounds and was throttled with a belt.
The attack happened on 17 January 2012 at a flat in West Tollcross, the High Court in Edinburgh heard.
Lord Uist made an interim compulsion order, returning Lawrence to Carstairs for further assessment. He is due back in court in January.
The attack left the broken tip of the knife embedded in Ms Ellis' head.
Another woman was stabbed in the arm before police arrived and sprayed Douglas Lawrence, 29, with CS Gas.
Afterwards judge Lord Uist ordered Lawrence back to The State Hospital, Carstairs, where he has been held since his arrest.
"You engaged in an awful frenzy of violence armed with a belt and a knife in the course of which you killed your former girlfriend and seriously injured another woman," the judge told Lawrence.
Lawrence also admitted assaulting Pauline Smith by striking her with a knife, and kicking neighbours Christeen MacKenzie and Peter Scolley.
Lawrence also admitted attacking nursing assistant John Stewart on 2 February while he was being held in the State Hospital.
Honours degree
Advocate depute Michael Stuart, prosecuting, told the court Lawrence had been diagnosed as suffering from a form of Asperger's Syndrome which frequently led to suffers becoming fixated on a particular subject.
Lawrence, aged 15, also spent six months in hospital after being diagnosed as schizophrenic.
In spite of his problems he obtained an honours degree in philosophy from Edinburgh University, the court heard.
Ms Ellis suffered from borderline personality disorder as a result of childhood experiences and met Lawrence because both were psychiatric out patients.
Lawrence had been in Ms Ellis' flat when he became angry because she had asked him to leave.
Ms Smith and Ms MacKenzie heard Ms Ellis shouting for help.
Further assessment
They opened their front door to see Lawrence with his arm round his ex-girlfriend's throat and punching her head until she fell to the ground.
Ms MacKenzie was kicked to the floor as she tried to pull him away.
As Ms Smith struggled to loosen the belt, Ms MacKenzie opened the front door of the block of flats to shout for help.
Her cries brought Peter Scolley into the common stair and he helped wrestle the belt from Lawrence and throw it away.
After punching Mr Scolley, Lawrence began kicking Ms Ellis and stamping on her head.