Da Vinci rapist's brother jailed for almost a year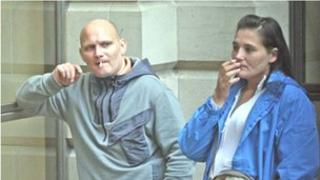 The brother of Da Vinci rapist Robert Greens has been jailed for almost a year for lashing out after he was mistaken for his identical twin.
Richard Greens, 35, threw a reveller at a Hogmanay party in Penicuik down concrete stairs, after being called 'Robert' - his brother's name.
Garry Campbell broke his leg during the fall, Edinburgh Sheriff Court heard.
Robert Greens was jailed in 2005 for raping a Dutch student at Rosslyn Chapel in Midlothian.
Richard Greens' wife, Lee, also admitted assaulting Mr Campbell after she grabbed his broken leg at the time and started shaking it around.
She told Mr Campbell that he was a "drama queen" and that his injury wasn't that bad.
Mr Campbell was taken to Edinburgh Royal Infirmary Hospital for treatment.
Sheriff Holligan told Lee Greens that he was "just persuaded" to consider a possible drug treatment and testing order.
Twin's notoriety
The sheriff called for a further report but warned Lee Greens she might still be jailed when she returns to court next month.
The historic chapel featured in Dan Brown's blockbuster "The Da Vinci Code" and subsequent film, earned Robert Greens his nick-name.
Sheriff William Holligan heard how his twin's notoriety had brought difficulties for Richard Greens.
"It is not the first time in Penicuik he has had to take abuse as a result of being mistaken for his brother," said defence solicitor Murray Robertson.
"To some extent he has been dogged by this."
Sheriff Holligan turned down a plea to let Richard Greens remain free pending further reports about possible treatment for his long-standing drug problem.
He told Greens if he had not admitted the serious assault the sentence would have been 16 months in prison.
The guilty plea had reduced the jail time to a year and the sheriff cut this by a further two weeks to take account of time spent on remand.