Reggae star Finley Quaye sentenced to 225 hours of unpaid work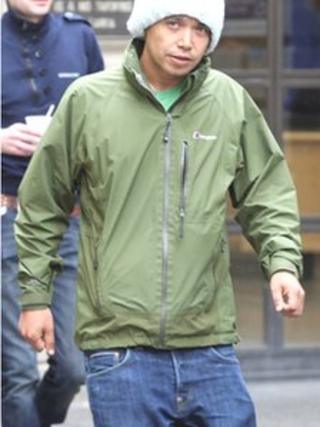 Reggae singer Finley Quaye has been ordered to carry out 225 hours of unpaid work for racially aggravated assault in Edinburgh.
Quaye had earlier admitted spitting on a woman's face and punching her in Leith Walk, Edinburgh, in October 2011.
The 38-year-old was also given a supervision order for 18 months.
Quaye's lawyer said at Edinburgh Sheriff Court he had been quite shocked by what he had done to the woman and was deeply ashamed.
Quaye's lawyer on that occasion, Cameron Tait, said Quaye had grown up in the Leith area and had come back to Edinburgh two months before the incident.
Intoxicated state
When people found out who he was, said Mr Tait, he was getting pestered in the street and subjected to racial abuse.
On the day of the incident, he had taken Codeine and been drinking in a pub in Leith Walk.
When he came out of the pub he had been racially abused and chased up the street by an individual.
Mr Tait said Quaye claimed that in an intoxicated state he had tried to engage in conversation with the woman.
He said his memory was clouded, but at one point the woman made an abusive remark to him that he should: "Go back to the hole he had come from".
Sheriff Reith told Quaye: "This was a disgraceful and disgusting offence which left the complainer upset and shaken.
"It was really appalling behaviour. You should be, and I am told you are, completely ashamed of your behaviour.
"You should indeed be thoroughly ashamed of the way you conducted yourself in these proceedings by failing to attend for the deferred sentence and failing to co-operate in the preparation of reports."
Quaye had a successful career in the 1990's with songs such Even After All, Sunday Shining and Your Love Gets Sweeter and his debut album, Maverick A Strike, earned him the 1998 Brit Award for Best Male Solo Artist.
In 1997 he won the Mobo Award for the Best Reggae Act.