Dalgety Bay radiation: Tests to begin at beach next week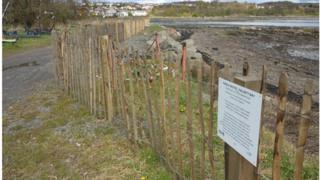 Further work to determine the source of radioactive particles at a Fife beach will begin next week.
Holes will be dug along the shoreline at Dalgety Bay to help find where the radioactivity is buried and the size of the problem.
The Scottish Environment Protection Agency estimate the work will take three weeks.
The radiation is believed to be from radium paint used decades ago on aircraft instruments.
Radiation was discovered at the beach by accident 20 years ago.
Dr Paul Dale, a radioactive substances specialist at Sepa, said: "Once this work is completed we should have a better understanding of the extent and magnitude of the contamination.
"The results, together with the work Sepa has been doing, will help to inform options for appropriate remediation at the end of the investigation period."
'Considerable anxiety'
The results of the work will also be considered by the Dalgety Bay Expert Group, whose recommendations will be given to Sepa.
Environment minister Richard Lochhead said: "I welcome the progress being made with the investigation into the radioactive contamination at Dalgety Bay.
"I hope that MoD understands the considerable anxiety that this long-running issue has caused the community.
"There is still a long way to go before the issues at Dalgety Bay are fully resolved and remediation options should be presented as soon as possible."