Expert in house spider warning in the Lothians and south of Scotland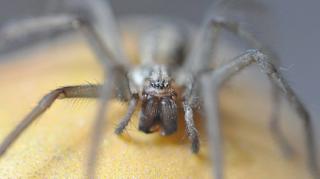 House spiders that are thrown into the garden by well meaning householders will die from the cold, an expert has warned.
Chris Cathrine, a spider expert for the Lothians and south of Scotland, is urging people to leave spiders found inside their homes alone.
The warning comes as more spiders have been seen in the area compared to last year, which was a poor year.
The expert said there was little chance of a spider dying of hunger in a house.
Boxing gloves
Mr Cathrine, British Arachnological Society spider recording scheme expert for south of Scotland, told the BBC Scotland news website that male house spiders are seen at this time of year running around people's houses as they are looking for a mate.
He said: "House spiders are harmless because they are unable to pierce human skin so I would urge people not to throw them out of their houses as they will die.
"They are also very territorial so they will try to get back into the house.
"They are unable to survive outside at anytime of the year but especially at this time of year they will not survive the night outside.
"So I am calling for people to leave them alone. They are good for your house as they eat the bugs in it and are harmless."
Female house spiders remain behind skirting boards on their webs so it is usually the males that are seen running along floors and walls in homes.
The large boxing glove type parts, called palps, at the front of a male spider are used in reproduction.