Refuse collection hours extended in Fife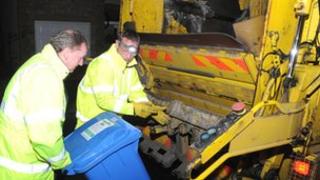 Bin collection times are being extended in Fife in a move which is expected to save the council £800,000.
Under the new scheme, which began on Monday, bins could be emptied between 06:00 and 21:00 on collection days.
The move came after officials changed shift patterns so that refuse workers work longer hours.
Fife Council said the changes were made to protect jobs, while saving money for its refuse collection department.
Alex Rowley, Fife Council's leader, said: "We recognise that refuse collectors make a huge contribution to public services, playing a part in everyone's life, and we have worked with them to get to this conclusion.
"These new changes in the shift systems are about making our operations as efficient as possible, keeping people in jobs and maintaining a high level of service for Fifers.
"Households will receive the same number of bin collections as they do currently and businesses will continue to have their waste collected seven days a week.
"However, by making full use of our bin lorries we can cut down on the number of lorries we need, and save over £800,000 of public money while preserving jobs."