Police revisit 'brutal assault' murder site in Armadale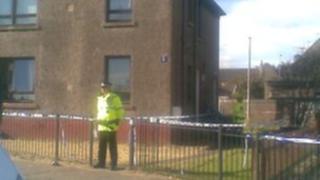 Police investigating the murder of a West Lothian man are revisiting the scene for a large-scale appeal, one week on from a disturbance at his home.
The body of Robert Samuel Simpson, also known as Ronnie, was discovered in Mayfield Drive, Armadale, just after 21:00 on Saturday.
The frail 67-year-old had sustained serious head injuries in an attack.
Police had received reports of a disturbance at the property at about 22:00 the Friday evening before.
Officers arrived and conducted inquiries at Mr Simpson's house however they found "no obvious signs of a disturbance".
Timeline
Detectives now believe that this could have been a key point in the timeline leading up to Mr Simpson's death and are continuing to appeal to members of the public for information.
Officers will be at the address between 17:00 and 23:00 in the hope neighbours or passers-by might remember further details to help with the inquiry.
The force advertisment trailer will be in the local area throughout the weekend promoting the Crimestoppers phone number.
A team of more than 40 officers are continuing to explore a number of lines of enquiry, including CCTV and door-to-door investigations.
Det Supt Bob Cowper, of Lothian and Borders Police, said: "While we will continue to keep an open mind, the disturbance on Friday night is a undoubtedly becoming a key point in our timeline for determining the circumstances around Mr Simpson's death.
"The vital piece of information that could lead us to catching his killer(s) may well lie with the local community, and I would encourage anyone hasn't yet come forward to do so immediately.
"The local community are undoubtedly shocked by this incident, however I would like to assure them that crimes of this nature are rare in West Lothian, and remains a safe place to live.
"Our officers will be undertaking various patrols throughout the weekend, and I would encourage anyone who has any concerns to let them know, they will be happy to assist you in any way they can."