Bulldozed historic wall rebuilt in Fife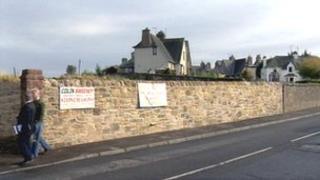 A Fife community is celebrating the rebuilding of an historic wall that was knocked down by a developer.
A section of the 250-year-old Falkland wall was demolished by Lomond Homes in 2010 after being deemed unsafe.
However, villagers waged a two and a half year battle to have it restored gaining the backing of Fife Council and the Scottish government.
John Smith, of the Historic Falkland Action Group, said the developers had "bitten off more than they could chew".
He told BBC Scotland: "This is a very special place and to see a developer come in and try to demolish something which is very significant for us as a community was angering to the community.
"A lot of developers do have power but they obviously bit off more than they could chew when they took on Falkland."
Colin Sweeney, the stonemason who has rebuilt the wall, said: "We were delighted to be involved in this project to give locals something back that was taken away.
"While we can't recreate the history of the wall we have put back a very good wall."
Cllr David McDermott, whose ward covers Falkland, said: "What it proves to developers is you can no longer go into communities and bulldoze down part of their heritage and history.
"If the community has the spirit and the fight in them to make sure things are restored to what they were then the community has the power to do it."