Developer bids for Scottish national tennis academy to be in Armadale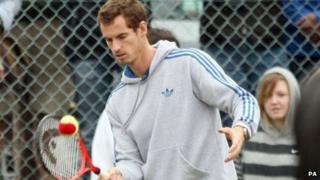 A developer has lodged a bid to open the new Andy Murray tennis academy in West Lothian.
Southdale, in Armadale, has written to the Scottish government urging it to be considered as the location for the new facility.
Southdale is a new development in West Lothian which will have both residential and commercial property.
A tennis club with eight indoor and eight outdoor courts is to be built on the land, next to the new school.
The company behind the development, SDA Ltd, has offered to gift the land for the academy.
SDA said the reopening of the Bathgate-Airdrie Railway line and the new station at Armadale would provide direct trains services to Glasgow and Edinburgh.
It also said two large park and rides are being created north and south of the station and the proposed Academy site is less than 2 miles from the M8 motorway and a new link road out to the A801.