Murder victim Robert Simpson CCTV pictures found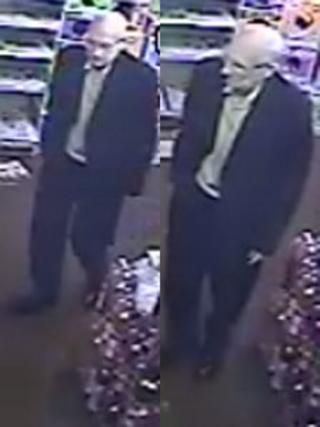 Police investigating the murder of a man in West Lothian have found CCTV footage of his movements in the days leading up to his death.
The body of Robert Simpson was discovered in Mayfield Drive, Armadale, just after 21:00 on Saturday.
The 67-year-old, known as Ronnie, was described as frail and had been the victim of a "brutal assault".
CCTV has confirmed Mr Simpson visited local shops on South Street near to his home at about 12:45 on 3 October.
More than 40 police officers are working on the inquiry into the death of Mr Simpson, who had suffered serious head injuries.
Detectives want anyone who may have seen him after 3 October to get in touch immediately.
They are also still appealing for any information about visitors to and from his home.
There were also reports of a disturbance at his home at about 10:00 on Friday, but officers found nothing "untoward" when they attended.
Police said Mr Simpson was a "particularly small", frail man who often walked with the assistance of a stick or crutch.
Mr Simpson's family, daughter Kay Simpson and son Ross Simpson, said: "We loved our father very much indeed, and we are so devastated by our loss.
"Dad was well-known within the local community and I have no doubt that he'll be missed by everyone who knew him."
Det Supt Bob Cowper, of Lothian and Borders Police, said: "The response from the local community has been impressive and I would like to thank those who have come forward so far with information.
"Unfortunately it hasn't yet brought us any closer to finding Mr Simpson's killer, and we still have no obvious motive for why he might have been targeted.
"Armadale is a tight-knit community and the reaction from the community so far has been one of shock and disbelief.
"We will continue to follow up a number of lines of inquiry to trace whoever was responsible for his death."