Armadale man Robert Simpson murdered in 'brutal assault' in his home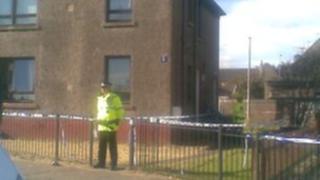 A man found dead at his home in West Lothian was murdered in a "brutal assault", police have said.
The body of Robert Samuel Simpson, also known as Ronnie, was discovered in Mayfield Drive, Armadale, just after 21:00 on Saturday.
The frail 67-year-old had sustained serious head injuries in an attack.
The last confirmed sighting of Mr Simpson was at his home on Wednesday, although there have been unconfirmed sightings since then.
There were also reports of a disturbance at his home at about 10:00 on Friday, but officers found nothing "untoward" when they attended.
'Brutal assault'
Detectives want anyone who may have seen Mr Simpson after last Wednesday to get in touch immediately.
Anyone with any information about people who have visited his home are also asked to call the police.
Police said Mr Simpson was a "particularly small", frail man who often walked with the assistance of a stick or crutch.
Det Supt Bob Cowper said: "While the exact circumstances surrounding Mr Simpson's death are still unclear, his injuries are consistent with a particularly brutal assault.
"Mr Simpson suffered from a number of health problems and he was a frail man who would have been unable to defend himself.
"I would appeal to anyone with information on Mr Simpson's whereabouts from last Wednesday to come forward to help us find the person or people responsible for his death.
"I would also appeal to anyone in the local community with any information, no matter how insignificant it might seem, to come forward immediately."