Edinburgh Royal Infirmary's elderly care criticised by inspectors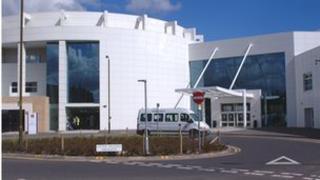 The Royal College of Nursing has criticised the "unacceptable standards" of care for older people at the Royal Infirmary of Edinburgh.
Nursing officials said staffing was "one contributory factor" to problems at the Little France hospital.
It follows a report by inspectors who carried out an unannounced inspection between 27 and 29 August 2012.
NHS Lothian has apologised to patients who have experienced care that was below the standard expected.
The Healthcare Improvement Scotland report said its inspectors were concerned that hospital were not ensuring patients' dignity and comfort was maintained at all times in the combined assessment area.
It is a mixed sex area and patients can be there for a number of days before being discharged or transferred to a ward.
The report said inspectors had to intervene on three occasions while inspecting that area of the hospital.
It also said inspectors saw "instances where nursing staff would start to care for a patient and then be called away before they were able to complete their tasks".
Patients were interrupted on several occasions while treatment and care was given.
The report also said some mealtimes "seemed poorly organised".
Patients who needed help with their meals waited for a long time before that help was provided.
Theresa Fyffe, Royal College of Nursing Scotland director, said: "While today's report makes clear that patient feedback on care was largely positive, it also reveals a number of serious issues that amount to a picture of unacceptable standards in care for older people at the Royal Infirmary of Edinburgh.
"There are a number of factors behind this poor situation.
"Staffing appears to be one contributory factor, which is why we call for a minimum of one professionally qualified nurse per seven older patients in all hospitals, to reflect the complexity of the care required.
"To address the seriousness of the problems highlighted in this report, as a professional body, the Royal College of Nursing is offering to support management and staff at the hospital so that we can turn this situation around and ensure good standards of care for all older people at the hospital."
'Good practice'
Melanie Hornett, NHS Lothian nurse director, said: "NHS Lothian is committed to providing high quality, safe and person-centred care and I am extremely disappointed in the findings of this report.
"I would like to apologise to patients who have experienced care that was below the standard we expect.
"We already have a number of polices and procedures in place to improve care for older people in our hospital and the inspectors did identify areas of good practice.
"But it is clear that we need to do more to ensure that these polices and procedures are being carried out consistently across all areas.
"We have reviewed the inspection team's findings and have a detailed action plan in place to address the issues raised."