Naked rambler Stephen Gough released from jail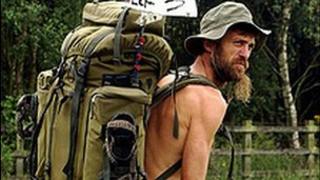 The man known as the naked rambler has been released from jail in Edinburgh.
Stephen Gough, 53, from Hampshire, was not wearing clothes as he left Saughton Prison earlier.
He had been serving a five month prison sentence following his arrest in July for being naked near a playpark in Dunfermline.
Mr Gough has spent most of the last six years in prison and has previously been arrested almost immediately after he has been released.
Lothian and Borders Police said they were willing to exercise discretion in his case "if circumstances permit".
He is understood to be walking through the Pentland Hills Regional Park on his way to Peebles.