Police officer Paul Greig has jail sentence for rape of two girls reduced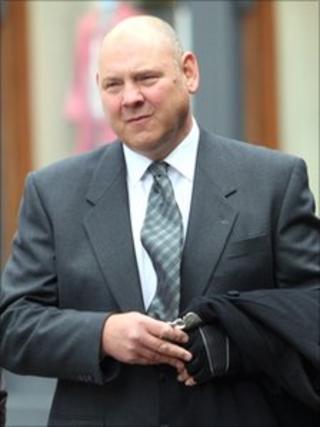 A police sergeant who was jailed for eight years for raping two young girls as a teenager has had his sentence cut to five years by appeal judges.
Paul Greig, 52, was convicted of abusing the sisters, aged seven and nine, at a house in West Lothian while he was babysitting in 1974 and 1975.
The Lothian and Borders officer denied charges of rape and indecent behaviour towards the girls.
Appeal judges ruled his punishment was excessive.
The appeal judges said they considered that Lord Kinclaven had not given adequate weight to Greig's age at the time of the offences and his subsequent many years of "responsible adulthood".
Lord Carloway, the now Lord Justice Clerk, sitting with Lady Smith, added there was not any need to include an element in the sentence for the future protection of the public.
The senior judge said at the Court of Criminal Appeal in Edinburgh that Greig, formerly of Armadale in West Lothian, had to be sentenced as an adult but account must be taken of his age and relative immaturity at the time of the crimes.
Lord Carloway said: "In addition, the significance of the 37 years or so which has elapsed since the date of the offending, without criminal conduct, is relevant. It indicates that the risk of re-offending is low.
"Furthermore, during that period, the appellant has been shown to have made a positive contribution to society. These are important considerations in the sentencing assessment."
Greig, a married man with a grown-up son and daughter, joined the police force in 1993 and was suspended from duty in January 2010.
He was placed on the sex offenders register last year.