Singing Kettle entertainers to retire in New Year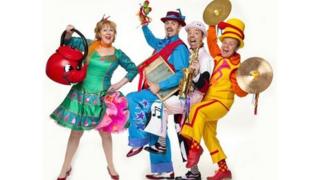 The stars of children's entertainment group The Singing Kettle have announced they are to retire in the New Year.
Husband and wife Cilla Fisher and Artie Trezise, who founded the group in 1982, are to hang up their kettle more than 30 years after they began performing.
The pair, who live in Fife, now plan to audition for one woman to replace them.
The Singing Kettle has sold more tickets at the SECC in Glasgow than any other act.
The new recruit will join Gary Coupland and Kevin Macleod.
They are due to start auditions on Sunday.
Mr Trezise told BBC Scotland: "It's great, we will actually be able to go see the show for the first time ever."
Ms Fisher said: "I see it as a new beginning where I will hand the reins on to another new young performer, who will hopefully keep it running for another 30 years."