Rain blamed for visitor drop at Edinburgh Castle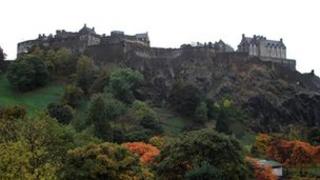 Historic Scotland is blaming the wet summer for a drop in visitor numbers at some of its key attractions.
There was a fall of 9% in tourists to Edinburgh Castle, the top attraction, and 15% fewer tourists to Linlithgow Palace in West Lothian.
Overall there were 8% fewer people visiting its 78 main attractions - down to 2.4 million from 2.6 million over six months.
Visitor numbers have been up for the past three years consecutively.
An Historic Scotland spokeswoman said they hoped the Disney/Pixar film Brave would help attract more tourists.
Film Brave
The spokeswoman said there were already signs that things would recover next year.
She added: "We have enjoyed three consecutive, highly positive years in terms of visitor numbers at our attractions.
"We also had record visitor numbers across our flagship sites last year, however we expected a flattening out of our visitor numbers this year.
"Like othervisitor attractions in the UK we have seen a downturn in our visitors and our income this summer with a decrease in visitors of 8% from April to the end of September in comparison with the same time last year.
"It has also been the wettest summer in 100 years, however we believe that the film Brave, which has been very popular, will attract visitors to come to Scotland to see the real historic sites which inspired the film."