Campaigners fight Castlebrae High closure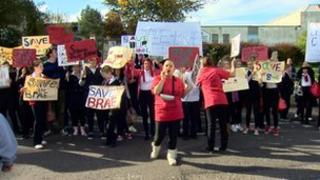 Parents and pupils have launched a campaign against the proposed closure of a secondary school in Edinburgh.
Running costs at Castlebrae High in Craigmillar are more than £10,000 per pupil, which is double the Scottish average.
It also has some of the worst exam results in the country and the worst rates of truancy and exclusions.
But plans by Edinburgh City Council to close the school have provoked an outcry from its supporters.
The school - which is in an area dogged by unemployment and health problems - is now two thirds empty, with just 21 pupils enrolled in S1.
It is also behind academically. A total of 23% of pupils last year passed five Standard Grades, compared to a national average of 79%.
However, opponents of the closure said the council's failure to invest in the school has contributed to its demise.
Mike Stark, school chaplain, said: "The council have failed to invest in Castlebrae, they've failed to give the community an assurance that it's going to stay open and so naturally, parents are going to think twice about sending their kids to a school that could possibly be closing throughout the duration of their kids' education."
'Lancing the boil'
Terry Gray, area officer of the EIS teaching union, said the council could have been more diplomatic in its approach. He described it as "lancing a boil", which he said had been stressful for staff and parents.
"The distressing point about it is that it's blaming the problems on staff and pupils at the school," he added.
Edinburgh City Council said it attached no blame to any parties but believed it was time to draw a line under attempts to turn the school around.
Its education convener, Paul Godzik, said: "I think the parents are upset - they do have a great deal of love and affection for this school. But, as it's the consultation period, we have to look at the school in the round and make an assessment on a whole variety of issues.
"This is a community high school, serving the community. And we do wish to look, during the consultation period, at how the services that are in the school at the moment would be transferred to other locations within the community."