Four skeletons found in Edinburgh back garden to be carbon dated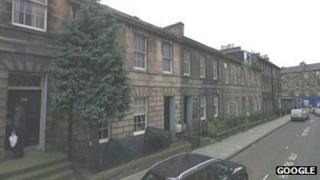 The remains of four bodies found in the back garden of an Edinburgh house are to be sent to a Scottish university to be carbon dated.
Archaeologists believe the skeletons pre-date the Haymarket property, which was built in 1822.
However, scientists at Strathclyde University hope to uncover more details about the bones to help unlock the mystery of why they were in the garden.
Workers carrying out renovations at the Grove Street house made the discovery.
The bones were found on 21 September.
'Mystery continues'
Archaeologists have dug further in one half of the garden where the bones were found but they failed to find further skeletons.
The owner of the six-bedroom terraced house will have to pay for another archaeological dig if he wishes to build in the second half of the garden in the future.
Richard Lewis, Edinburgh City Council's culture and leisure convener, said: "The remains will be carbon-dated to determine their age and further investigative work is ongoing by archaeologists to see if anything more can be learned from the site. Until then, the mystery continues."
The results from the carbon dating tests will not be released until the end of the year.