Anna Gristina: US could deport New York 'madam'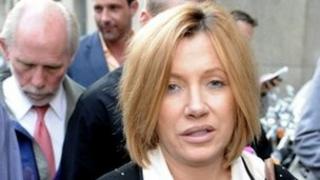 A Scottish mother accused of running an escort service in New York City could face deportation after admitting a charge of promoting prostitution.
US prosecutors said Anna Gristina, 45, who is originally from Edinburgh but is a legal US citizen, was the madam of a Manhattan sex service for 15 years.
Gristina said previously she was merely starting a matchmaking service.
She admitted the charge of promoting prostitution as part of a plea deal at Manhattan Supreme Court on Tuesday.
It stems from an incident in July 2011, in which authorities say she arranged a tryst between two women and an undercover police officer posing as a client.
Gristina spent four months in jail before being released on a $250,000 (£154,000) bond in June.
'Wealthy clients'
The judge said she would be sentenced on 20 November.
Gristina lives on a 12-acre property in Monroe, which is about 50 miles (80km) north of New York City.
Prosecutors alleged she made millions from the business, which was said to have had a roster of wealthy clients.
Co-accused Jaynie Baker, a former matchmaking recruiter charged with helping Gristina set up sexual encounters, reached a deal to resolve her case.
Baker, 31, is due back in court on 2 October.
Gristina was arrested on 22 February as she left a friend's office after a fundraising meeting for her business, prosecutors said.
Two accused prostitutes and an accused money-launderer were also arrested in the case.