Scottish IVF services get £12m to cut waiting times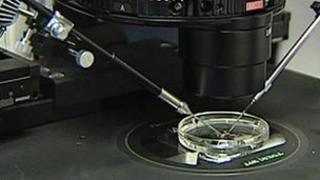 Millions of pounds are to be invested over the next three years to help reduce waiting times for IVF treatment, the Scottish government has announced.
The £12m of funding will go towards improving access to infertility treatment in all NHS boards.
It comes as NHS Fife said they would refuse IVF treatment to couples who smoke or if the woman is overweight.
The Scottish government wants a maximum NHS waiting time of 12 months for IVF treatment by March 2015.
The funding was allocated as part of Finance Secretary John Swinney's budget plans.
A total of £2m will be invested in 2012/13, with a further £4m in 2013/14, and £6m the year after.
Minister for Public Health Michael Matheson said: "There is a great demand for fertility treatment and we know it can be very upsetting for patients to have to wait for treatment, especially when the amount of time couples wait for treatment can vary across the country.
"This funding will enable NHS boards to invest in their IVF services, and will help to achieve our 12 month waiting times commitment, which will ensure that eligible patients have equity of access for this treatment.
"This will mean, for the first time ever in Scotland, all eligible patients will receive treatment within 12 months of being diagnosed as requiring IVF".
NHS Fife was criticised by The Infertility Network after it said would no longer provide treatment to couples if either of them smoked, or if doctors considered the woman to be overweight.