Couples who smoke banned from IVF treatment by NHS Fife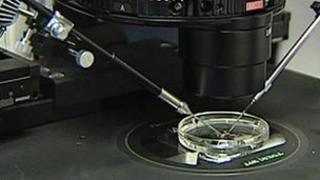 NHS Fife has been criticised for refusing IVF treatment to couples who smoke.
The health board said it would no longer provide treatment to couples if either of them smoked, or if doctors considered the woman to be overweight.
The charity Infertility Network said the health board had acted too quickly before new national guidelines on IVF were published at the end of the year.
The new rules come in to effect on 1 October 2012.
The Infertility Network said NHS Fife's changes were "bad news" for IVF patients.
The charity said it was also "scandalous" that women joining the list in Fife next month would only have the chance of two treatments, rather than three.
If they fail to conceive they will be put back to the start of a three-year waiting list before their next treatment.
NHS Fife said it was acting to reduce waiting times.
'Without consultation'
Gwenda Burns, Infertility Network's Scottish branch coordinator, said: "We think this is bad news for patients.
"The decision to cut patient provision before the infertility review is finished is completely incomprehensible.
"To make this decision, without any consultation or warning, whilst we are so close to the end of this important review, is beyond belief.
"It is scandalous that health boards in Scotland continue to reduce provision and make changes to criteria knowing that new recommendations will soon be in place.
"This is the third health board to do so, with Dumfries and Galloway and the Borders reducing provision to two cycles over the last year or so.
"We are calling on government to ask boards to wait for the new recommendations, and until they are announced, to follow current policy."
Waiting times
Dr Brian Montgomery, NHS Fife medical director, said: "NHS Fife has committed an extra £100,000 to fund infertility treatment over the next financial year.
"This will see 28 more cycles carried out than the previous financial year, helping to reduce waiting times for treatment.
"Treatment criteria have been revised to improve the success of the treatment and the outcomes for mothers and babies.
"Patients will receive up to two treatment cycles. Both partners must be non smokers and the female body mass index should be less than 30kg/m2.
"These changes will come into effect for all new patients from 1 October 2012, or those on the waiting list who are likely to be offered a cycle after 1 April 2013.
"Couples currently waiting for a third cycle will still receive this.
"These changes to IVF provision bring NHS Fife more in line with other boards in the south east of Scotland."