Leith Waterworld: Councillors reject community bid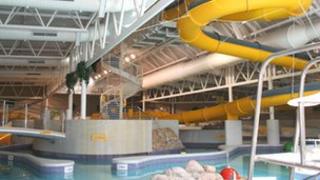 Councillors have rejected a community bid to operate Leith Waterworld but have offered campaigners help to make an improved submission.
The city's only swimming pool with flumes closed on 8 January due to annual losses of £350,000.
Council officials will help with a revised bid but if it fails again then the pool will be put back up for sale.
The pool had two notes of interest when it was put up for sale last year.
Two bids were received by the council both from the community campaign group, Splashback, although one was deemed to be invalid.
The remaining bid was reviewed by independent property consultants GVA but was found to require substantial subsidy from the council - £900,000 in the first three years, if recommissioning costs of £155,000 were taken into account.
London 2012 Games
Richard Lewis, Edinburgh City Council's culture and leisure convener said: "The council agreed in February to postpone the sale of Leith Waterworld for six months to allow Splashback to come forward with their proposals and I want to acknowledge the time and effort the group have already committed to this.
"I said previously that I would be delighted if an affordable and achievable community bid came forward but, unfortunately, Splashback's business case falls well short of what is required and, if accepted, would leave the council with an unjustifiable financial burden, particularly in the current economic climate.
"The hugely successful London 2012 Games have rightly put the spotlight on the city's sporting facilities but it is my responsibility to ensure that our attention and investment is spread proportionately across the city and its residents.
"All that said, we have identified a window of opportunity and are committed to offering Splashback every possible assistance in bringing forward a more robust and commercially viable bid for consideration by Council in January."