Edinburgh woman Jeni Ayris killed in suicide bombing in Afghanistan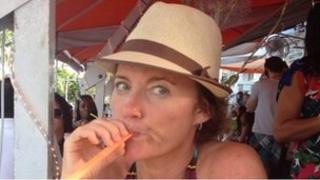 An Edinburgh woman was among 12 people killed in a suicide bombing in Afghanistan on Tuesday, it has emerged.
Jeni Ayris, who was originally from Durban in South Africa, was the owner of former African cafe and deli, Ndebele, in the Scottish capital.
The 48-year-old had been in Kabul for 14 months and was due to return to Scotland on Friday.
It is thought the bombing was carried out in retaliation for an anti-Islamic film made in the United States.
The attack was carried out on a minibus carrying foreign workers near Afghanistan's airport.
Ms Ayris was the customer relations manager for aircraft charter company ACS/BalmOral.
She previously ran Ndebele's in the Tollcross area of Edinburgh for 11 years before it closed in 2008. The cafe reportedly once fed Nelson Mandela.
In a statement, her friends and family described her as "a warm, kind and generous person with an everyday objective of helping everyone she met".
"She had a positive boundless energy which rubbed off on everyone, making her loss all the more hurtful," they said.
"Jeni leaves behind a sister who is her only family, as well as a huge number of friends across Scotland and the world - who are all absolutely devastated by her tragic death.
"Although born in South Africa, Jeni was a British citizen and her home was firmly rooted in Edinburgh where she had lived for the last 17 years."
The statement said she loved living in the UK and was "very passionate" about her life in Scotland.
It added: "Jeni was highly respected and valued in her job as a manager in the aviation sector, where she was responsible for the safe air travel of NGOs throughout Afghanistan.
"Her contribution was her practical way of helping Afghanistan move forward."
Friend Richard Kellett, from the Isle of Mull, said her sister had learned of her death in a call from her employers on Tuesday morning.
"I was meant to meet her this Sunday in Edinburgh, but obviously that won't happen now," he said.
"Her sister was told it was a roadside bomb, but it looked like a suicide attack.
"I believe they were on their way back from the airport to their compound when the attack happened.
"It has come as a real shock. I spoke to her about the risks, but this looked like an organised attack, which made it harder to plan for it."
In a statement, ACS/BalmOral said it was "deeply saddened" by the loss of its staff in Kabul.
"We are in the process of notifying the next of kin and our main focus now remains with the families of the innocent victims, who tragically lost their lives, our prayers and thoughts are with them, and all our staff remaining in Kabul," it said.
The British Embassy in Kabul expressed its "deepest sympathies" to the families and friends of those who died.
"Officials from the British Embassy in Kabul are liaising with the South Africans, the Afghan government and other partners and are providing consular assistance," it added.
South Africa's department of International Relations confirmed to the BBC Scotland news website that Ms Ayris had died in the bombing.