RAF Leuchars Airshow: Top display teams take to skies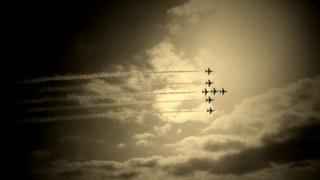 Some of the world's top air display teams have been taking to the skies over Scotland as part of the annual RAF Leuchars Airshow.
A crowd of about 35,000 people was attending what will be one of the last Leuchars flying festivals.
The station is set to become an Army base, with its Typhoons leaving for RAF Lossiemouth in 2013.
Highlights at the air show included the Chinook Display Team, the Typhoon Display Team and the Red Arrows.
The last airworthy Vulcan bomber was also taking part, joining the Battle of Britain Memorial Flight.
The delta wing aircraft from the Cold War era was commemorating the Queen's Jubilee year and the 60th anniversary of the first flight of the Vulcan.
Historic squadron
The air show also saw the 1(F) Squadron go on parade after being officially reformed.
An RAF Leuchars spokesman said: "1(F) Squadron has a distinguished history as a founder squadron in the Royal Flying Corps, the RAF's predecessor.
"The squadron has previously flown such iconic aircraft as the Hurricaine and the Harrier. The reformed squadron will look to build on the recent success of the multi-role Typhoon, now 'battle-proven' after its deployment over Libya in 2011."
The Red Arrows performed a flypast to signify the end of the 1(F) Squadron parade.
Air operations at Leuchars are to move to RAF Lossiemouth in 2013 in the UK government's defence shake-up.