Dalgety Bay radiation: Diggers to be used in pit testing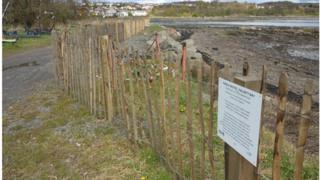 About 90 trial pits are to be excavated with diggers as part of a new systematic search for radioactive particles at a Fife beach.
Samples will be taken over three weeks from each two-metre deep pit at Dalgety Bay before being refilled.
The tests will start within 10 days of all of the landowners agreeing to allow the machinery onto the beach.
The radiation is believed to be from radium paint used decades ago on aircraft instruments.
Radiation was discovered at the beach by accident 20 years ago.
Environmental watchdog
The Dalgety Bay Sailing Club is the only remaining landlord yet to give consent to the machinery being allowed on the site. It is due to vote later.
The MoD will have a contractor conduct the tests while environmental watchdog Sepa monitors the work.
Dr Paul Dale, Sepa's radioactive specialist, told the BBC Scotland news website: "Remediation would involve either removing all the radioactive particles or entombing them, which would see concrete being poured over the area to keep the radiation contained."
In June scientists revealed a "significantly radioactive" particle had been found outside the cordoned-off area in which more than 2,000 radioactive objects and particles have been unearthed since October 2011.
Radium from wartime aircraft is thought to have been in landfill which was used when the foreshore was reclaimed.