Prison report backs more training at Addiewell Prison in West Lothian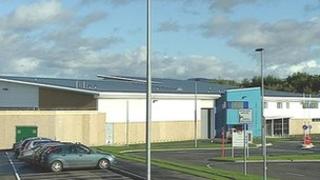 Training at Scotland's newest private jail should be a priority according to inspectors after a report claimed some employees seemed inexperienced.
HM Chief Inspector of Prisons Brigadier Hugh Monro has raised concerns about staff at HMP Addiewell in West Lothian.
A report last January highlighted the low level of staff retention at the jail, which opened at the end of 2008.
In a follow-up report, Brigadier Monro said "staff retention still appears to be poor".
The prison is run by Sodexho Justice Service, who said at the time of the original report that improved salaries would lead to a drop in staff turnover.
Significant progress
But Brigadier Monro's report said: "The effect of these salary increases had not yet impacted at the time of the follow-up and the figures show that staff retention still appears to be poor.
"The result of this is that some staff in the halls appear to be inexperienced and are not as engaged with prisoners as I would have expected.
"I suggest that staff training in halls is addressed as a priority."
Overall, the inspector found the prison was "making good progress".
Brigadier Monro said: "In general, it is clear that the prison has carried out a significant amount of well-considered work to address many of the issues highlighted in my previous report and I was pleased to see significant progress in a number of areas."
'Developing well'
Last January's report had raised concerns about a number of areas, including staff turnover, high levels of reported violence, healthcare and the level of participation by prisoners in various activities on offer.
The follow-up report found that between November 2010 and November 2011 the number of minor assaults by prisoners on staff had dropped by 48%.
Brigadier Monro said: "I continue to believe that Addiewell is a safe prison.
"Prisoners reported that they feel safe and the evidence shows that staff/prisoner relationships are good."
While he said Addiewell was "no more violent than other prisons", he added: "Nevertheless, the prison should not be complacent on this issue."
Meanwhile, the number of inmates taking part in "purposeful activity" at the jail had increased from 60% to 75%, with the latest report describing this as a "significant achievement".
Brigadier Monro also said that healthcare had "improved considerably from a very poor position".
Although he said education services at the jail were "developing well", his report added: "There are insufficient teachers with the proper teaching qualifications and this issue must be addressed."