Edinburgh bus lane camera changes unveiled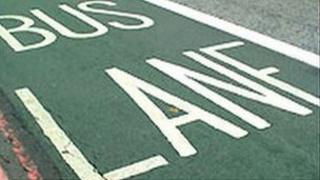 Changes are to be made to two of Edinburgh's cameras which monitor illegal use of the city's bus lanes.
The Willowbrae Road cameras were switched off in May after residents received daily fines for driving over the bus lane to access their homes.
Now the road's outbound camera will stay in its current position, but the bus lane will be shortened.
The camera coming into the city on the same road will be moved closer to the Jocks Lodge junction.
It will allow motorists to turn into Willowbrae Avenue without going into the bus lane.
The outbound camera will be switched on in about nine months once the works have been completed.
It follows an urgent review by Edinburgh City Council into all ten cameras in the city. Although ten cameras are in place, only five went live earlier this year.
They were the two on Willowbrae Road, two on Calder Road and one on London Road.
Councillors cancelled all tickets, refunded fines and switched the cameras off while an investigation was carried out in to problems that emerged.
Tram works
The Transport, Infrastructure and Environment Committee will be presented with the report at their meeting next Thursday.
The report has made a series of recommendations with a number of changes to take place.
The Calder Road and London Road cameras will remain in place and operational.
The report recommends the cameras at the bus gates at Prestonfield Avenue and The Jewel are switched on.
It also says the one on North Bridge should be decommissioned as there are worries about drop offs at the Carlton Hotel being fined unfairly.
The report says a camera on Leith Street will not be switched on until the city centre tram works are completed.
Minor changes to signing and road markings will be made before a camera on Old Dalkeith Road goes live.